Staff Report From Middle Georgia CEO (LINK)
Tuesday, April 4th, 2017
Star Snacks Co. LLC, a leading manufacturer and distributor of high-quality branded nuts, trail mixes and dried fruits, will locate a new manufacturing facility to Macon-Bibb.
Adding to the robust investment portfolio of the Macon-Bibb County Industrial Authority, the company will invest more than $18 million in a peanut roasting and packaging facility.  The addition of this facility will add to Macon-Bibb's agribusiness profile.  Star Snacks' mission to offer a quality dried fruit and nut at an attractive price point drove their decision to select the state of Georgia and specifically Macon-Bibb.  Their aggressive growth plan promises to deliver 115 new jobs to the Macon-Bibb workforce.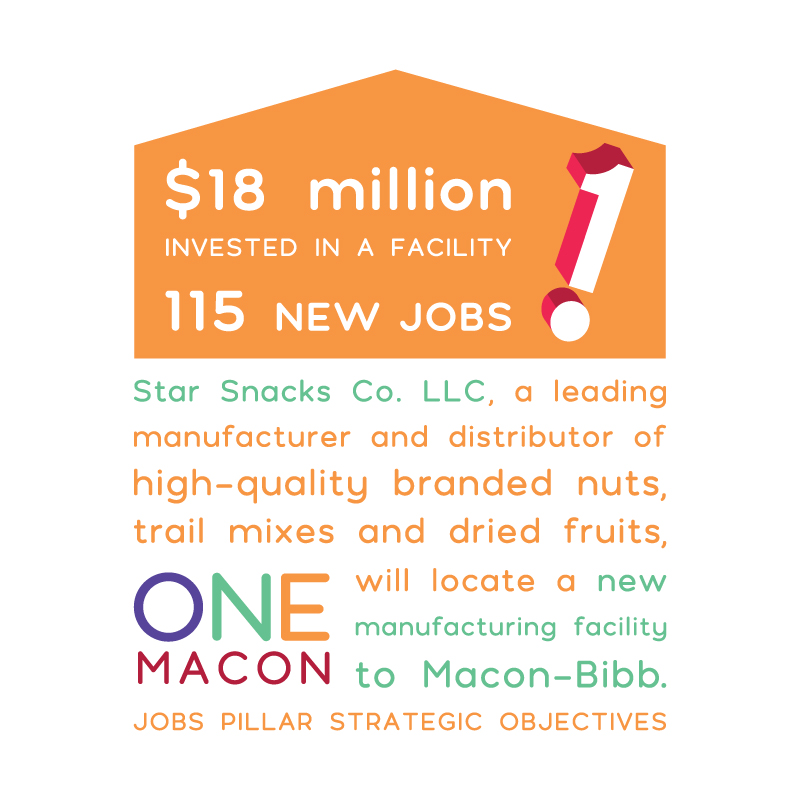 "I'm delighted to welcome Star Snacks to Macon-Bibb County, and I look forward to their employees and families joining our vibrant community," says Macon-Bibb County mayor Robert A.B. Reichert.  "The Commission and I truly appreciate the work our economic development partners do to market our community and for showing businesses why investing in the Hub City of Middle Georgia is a solid move."
"We are excited about establishing our new processing facility in Bibb County. One of the big attractions was the Macon – Bibb Industrial Authority team's capabilities and eagerness to make things happen," said Mendel Brachfeld, Managing Partner of Star Snacks LLC. "In addition we feel very confident in the local workforce to be able to support our company."
Star Snacks provides a number of services including private labeling for brand name retailers, national and regional drug store chains, supermarkets and deep discounters. The company will construct a 200,000-square-foot facility to source, roast and distribute peanuts, which are found in southwest Georgia with a potential extension of an additional 200,000 sq. ft.
"Our new model is working and we are elated to add a new investment of 115 new jobs to our regional economic impact for this community.  Star Snacks reflects our values as a family-owned business with a proven record of success for over fifty years," said MBCIA Chairman Cliffard Whitby.  "Expanding Macon-Bibb's footprint in the snack industry and agribusiness field is a testament to our great location, business-friendly environment, and ability to attract more new industry."
"This is another huge win for Macon, and the state of Georgia," said GDEcD Commissioner Pat Wilson. "Our state is known for its agricultural assets, both nationally and internationally, and peanuts are one of our most recognizable Georgia grown products. It is our hope that Star Snacks finds our abundant agricultural resources, skilled workforce, and accessibility to markets worldwide beneficial to their operations."