"I was smart, but I was just bad. I was hanging with the wrong crowd," said Edren, a fifth grade student Burdell-Hunt Magnet School.
A big statement for such a young student, but Edren's newly discovered accountability is now leading him to making good choices and a complete transformation at school.
Teaching this kind of self-realization and the importance of good choices can have a significant impact on students' lives in and outside the classroom. That's why Edren, along with 1,750 other Bibb County students, are participating in the "Leader In Me" program, now in its second year at Burdell-Hunt Magnet and Sonny Carter Elementary Schools and in its first year Hartley and Bernd Elementary Schools.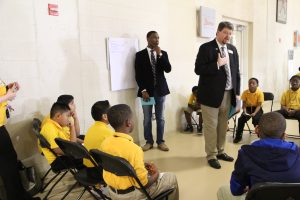 The program's implementation is being sponsored by the Business Education Partnership, an organization of business leaders invested in Macon-Bibb public schools and a cornerstone of the OneMacon plan.
According to the "Leader In Me" website, the program is based on best-in-class content and concepts practiced by education thought-leaders. Guided by Stephen Covey's The 7 Habits of Highly Effective People, "Leader In Me" teaches enduring values and principles that students can use throughout their lives, in and outside the classroom, preparing them for college and beyond.
Among those leadership skills are responsibility, accountability, problem-solving, adaptability, communication, initiative and self-direction, creativity, cross-cultural skills and teamwork. It also includes the skills necessary for academic success, like critical-thinking, goal-setting, listening and speaking, self-directed learning, presentation-making and how to be a team player.
The program has been so successful at Burdell-Hunt Magnet and Sonny Carter that the BEP is now raising funds to start programs in the system's remaining 25 elementary and middle schools within two years.
"Having my class in accountability partners has greatly improved our ability to use all of the seven habits with fidelity," said Ruth Evans, a fifth grade teacher at Sonny Carter Elementary School. "Student pairs look out for each other in regard to academic success and use of good behavior. Most importantly, students have been able to put 'Habit 5: Seek First To Understand Then To Be Understood,' into real-life practice."