Bayside Village provides housing for people seeking recovery from mental illness and addiction, or people with developmental disabilities.
MACON – River Edge Behavioral Health Center has officially unveiled its latest long-term housing initiative, which was made possible through partnership with Macon-Bibb County and the United States Department of Housing and Urban Development (HUD).
Bayside Village (3555 Fulton Mill Road) is a complex of 16 one-bedroom energy efficient apartments that make new, safe, affordable, and permanent community housing available. The apartments offer support options for people seeking recovery from mental illness and addiction, who were formerly homeless, or with developmental disabilities seeking a meaningful life in our community. Bayside Village and its staff are already providing support to people in all 16 units.
A ribbon-cutting and open house event was held on June 7, 2017 to celebrate the community housing initiative. In attendance were current Bayside Village residents, and representatives from River Edge Behavioral Health, the River Edge Foundation, Macon-Bibb County, and HUD.
"The mission of River Edge is to add value to the people and communities we serve. So, we are pleased to provide this available resource and solution to community housing," said Shannon Gordon, Chief Executive Officer of River Edge. "We know that stable housing helps people achieve long-term recovery, and we deeply appreciate the partnership of Macon-Bibb consolidated government and HUD to make this possible."
Bayside Village is the fifth permanent housing complex developed by The River Edge Foundation. The infrastructure development and construction of the two phases of Bayside Village was financed through $1.5 million in HUD financing provided through Macon-Bibb County's Economic and Community Development Department.
"While we have people in great need in our community, we have organizations that are actively making more assistance and support available to them," said Macon-Bibb County Mayor Robert Reichert. "I want to thank River Edge for working with us to provide housing across our community that provides both a place to live and support and assistance to meet their specific needs."
In addition to providing long-term housing solutions, the Foundation's work has transformed formerly blighted and abandoned blocks of the community and engaged the philanthropic community to leverage resources for recovery. The River Edge Behavioral Health Center provides support services to assure residents' housing success.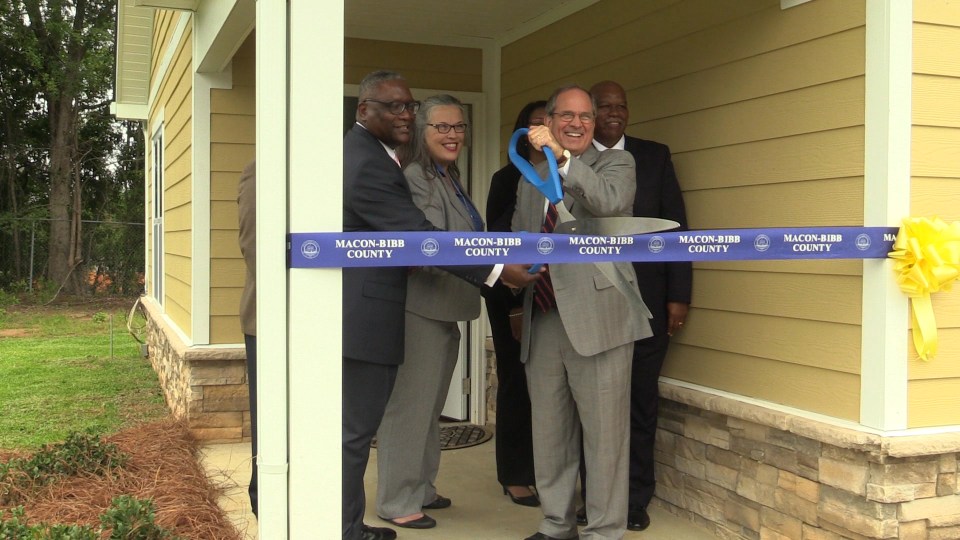 About the River Edge Foundation
The River Edge Foundation, an independent, 501(c)3 non-profit organization, raises private funds to help make life better for individuals who experience mental illness, addiction or a developmental disability, especially individuals served and supported through the robust, community-based offerings of River Edge Behavioral Health.  The Foundation strives for excellence in fundraising, investing, stewarding contributions and assets, governing the Foundation, as well as forming lasting and mutual beneficial relationships with community partners, constituencies and stakeholders.
About River Edge Behavioral Health
The full continuum of River Edge Behavioral Health services provide state-of-the-art treatment and support services for more than 13,000 children, youth, families and adults who experience mental illness, addiction, co-occurring disorders or developmental disabilities annually. River Edge services extend throughout Central Georgia, including Baldwin, Bibb, Crawford, Houston, Jones, Monroe, Peach, Putnam, Twiggs and Wilkinson counties. Learn more at River-Edge.org.  For help, call 478-803-7700.
About the Macon-Bibb County Economic and Community Development Department
The Economic and Community Development (ECD) Department's mission is to stimulate economic vitality by strengthening neighborhoods, building partnerships, and fostering public and private investments in the community. To successfully revitalize a community, three key components must be in place: the hardware (physical development that enhances a community), software (social programs, rules, and regulations), and links to other resources (outside programs and capital). With the help of its partners, ECD focuses on capturing federal tax credits and state funding for economic development projects and finding private and foundation funding for special projects.