The Bibb County School District and the Business Education Partnership collaborated to re-launch the Principal for a Day program, which invited community members to visit Bibb County schools and experience first-hand the work taking place to prepare students for college or career. The experience was an opportunity to better understand the challenges and triumphs that principals and teachers see on a daily basis and provide input or feedback from a business or community perspective.
In late January, guests were invited to spend the entire school day or as much as their schedule would allow. They ranged from church leaders to community leaders, public sector to private – the goal of the BEP was to invite a diverse group of participants, from the President of the Greater Macon Chamber of Commerce to the General Manager of Sam's Club.
No two visits to the schools were the same for Principal for a Day because each school has different needs and experiences. Many of the principals shared with guests how they're working on district  initiatives, non-negotiables and focus areas, such as how they're monitoring a district-wide elementary scheduling initiative, implementing PBIS and monitoring discipline, how the classroom cameras and interactive panels work, how teachers are collaborating for professional development, or how they monitor classroom instruction. Guests experienced data team meetings among teachers and were shown the school's data room, introduced to high school GEAR UP coaches and counselors helping seniors, or learned more about being a SAM Principal, if they were with one for the day.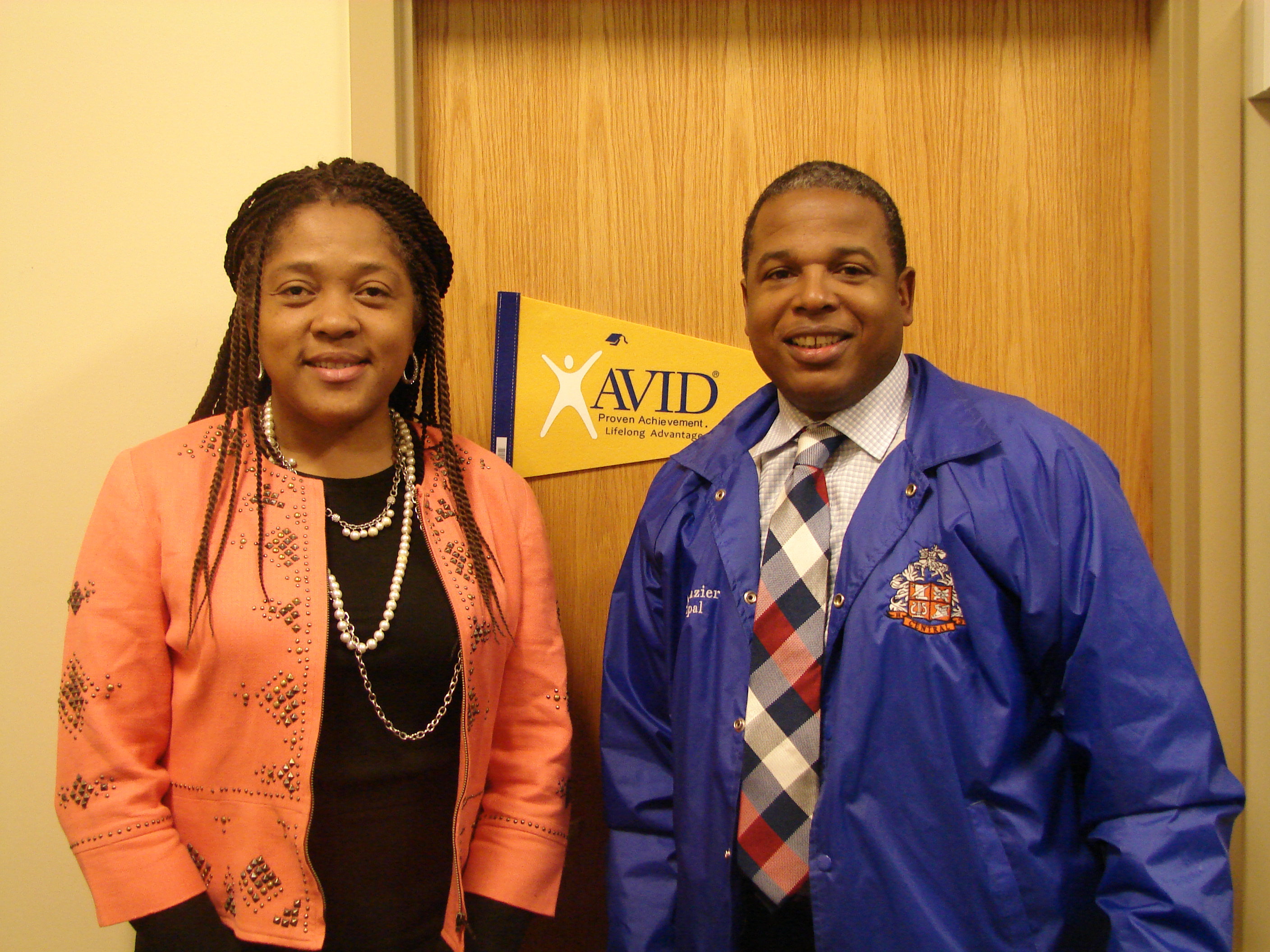 Among the community members who were a Bibb County Principal for the day was Charise Stephens, executive director of the Georgia Wellness and Fitness Festival. Stephens spent her day at Central High School with Principal Emanuel Frazier. Central, Stephens said, had a special place in her heart. After all, she graduated from Central in 1989 and her daughter graduated in 2015.
"Walking down the corridor with Central Pride, I got a chance to see many of the children of her former classmates. It was deja vu," she described.
Stephens got the chance to be a part of morning announcements, tour the school, and witness first-hand many of Principal Frazier's duties.
"It was such a blessing to see a student come in with the announcement that he received a full scholarship to Fisk University," she recalled. "A new community relationship has formed."
Among the other community members who participated in the Bibb County Principal for a Day program:
ALEXANDER II
Christopher Wilcox
Engineer, Raytheon
BERND
Eric Bobo
VP of Lending, MidSouth Community Federal Credit Union
BROOKDALE
Ariel Malcom
Service Learning and Tutor Coordinator, United Way of Central Georgia
BRUCE
Danny Boykin
Supervisor, United States Postal Service, Retired
BURDELL-HUNT
Oby Brown
Editor, The Telegraph
CARTER ELEMENTARY
Jim Davis
Retired, Leadership Macon 2016
HARTLEY
Blake Sullivan     
Business Education Partnership / Standing Tree LLC
Reginald May
Pastor, Wabash Church of Christ
HEARD
Melissa Topping
Marketing Manager, MidSouth Community Federal Credit Union
HERITAGE
Jarred Kelly
Marketing and Business Development Specialist, MidSouth Community Federal Credit Union
INGRAM-PYE – MORNING
Katherine McLeod
Chief Executive Officer, First Choice Primary Care
LANE
Bobby Atkinson
General Manager, Krystal on Riverside Drive
Major Jones
General Manager, Marco's Pizza – Riverside Drive
PORTER ELEMENTARY
Mark Stevens
Community President, CenterState Bank
RILEY
Mr. Connelly Poole & Mrs. Mary Poole
Retired Pastor / Riley PTO Treasurer
Mr. Rene D. Neville
Owner/Operator, Olympia Family Fun Center
SKYVIEW
Brenda Lambert
Founder, Backpack Ministry/Forest Hills United Methodist Church
SOUTHFIELD
David Bass
VP of Operations, MidSouth Community Federal Credit Union
Jerry Harrison
Trustee, Church of Christ at Chapel Hill
SPRINGDALE
Sheldon Roberts
Office Manager, Food Depot
TAYLOR
Derek Jones
Branch Manager, MidSouth Community Federal Credit Union
UNION ELEMENTARY
Kristine Steinmann
Vice President of Operations & Program Services, Boys & Girls Clubs of Central Georgia
VETERANS
Amber Maynard
Funeral Director Apprentice, Hicks and Sons Funeral Home
VINEVILLE ACADEMY
Caitlin Hebert
Photographer / Costume designer, Arts Renaissance
Angelica Biek
Reporter, WGXA/Sinclair Broadcast Group
WILLIAMS
Matt Odom
Owner/Operator/Artist, Matt Odom Photography
APPLING
Ann Starley
Area Coordinator, American Cancer Society
BALLARD-HUDSON
June O'Neal
Executive Director, Mentors Project of Bibb County
HOWARD MIDDLE
Derrick Jordan
General Manager, Sam's Club
MILLER MIDDLE
Jim Crisp
Director, Theater Macon
WEAVER MIDDLE SCHOOL
Joshua Peltier
Director, Designed For Greatness
Miriam Turner
Midtowne Vision Center/Goggles Eyecare 4 Kids Optometrist
HOWARD HIGH
Cheryl Carty
Chief Marketing Officer/VP of Recruitment and Marketing, Middle Georgia State University
NORTHEAST HIGH
James Palmer
Owner, Macon Magazine
RUTLAND HIGH
Wade Bennett
Business Manager, Hartley Bridge Family Dentistry
SOUTHWEST HIGH
Roy Bibb
President, CEO, Midsouth Community Federal Credit Union
Mr. Terry McGhee
Retired CFO, Central Georgia State Hospital
Paul Little II
Pastor, Bibb Mt. Zion Baptist Church
Darrell Howard
The Lincoln Brand Champion, Riverside Ford
WESTSIDE HIGH
John Sharp / Josh Barrett
Young Life
ELAM ALEXANDER @ BURKE
Doris Melissa Pittman
Special Investigator, Bibb County District Attorney's Office
HUTCHINGS COLLEGE & CAREER ACADEMY
Lynne Weeks
Account Executive, Match Up Promotion
SOAR ACADEMY
Dominique Johnson
Pastor, the Urban CEO
NORTHWOODS ACADEMY
Chief Brenda Thomas
Prevention Director, Macon Bibb Fire Department